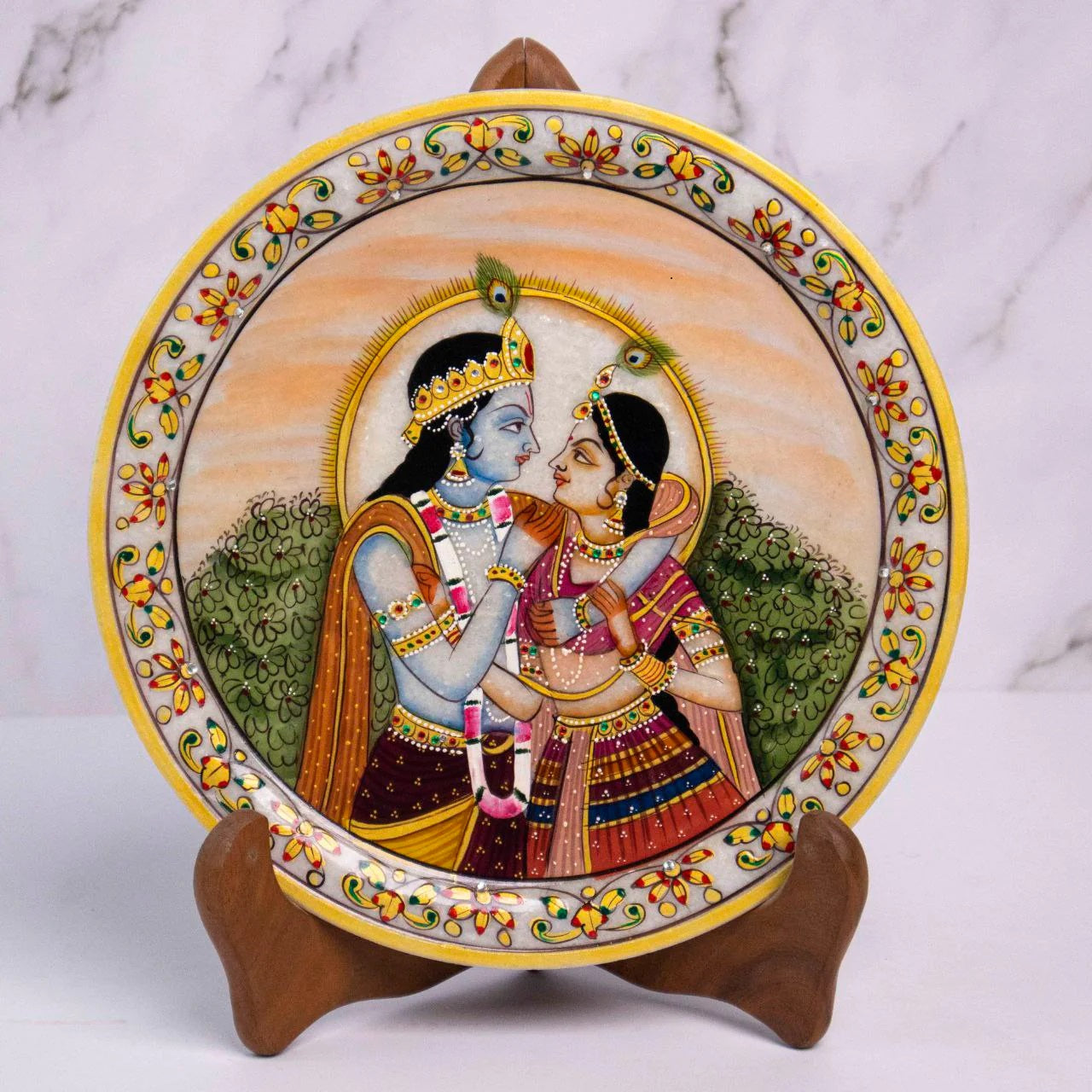 The Beauty and Elegance of Marble Plates in Home Decor:
Marble has been a common choice for homeowners and interior designers alike for generations because of its ageless beauty and elegance. Particularly marble plates have grown in popularity recently as a fashionable and useful addition to any home.
The beauty of marble plates is one of the key factors in their popularity as home decor. Marble plates are renowned for both their beauty and elegance. Marble plates have a traditional and timeless appearance that never goes out of style. A natural stone with a vast variety of colors, patterns, and textures, marble is a material that can be employed in a wide range of settings and designs.
Depending on the type of marble used, the veining patterns on marble plates can be delicate or striking and range in color from dazzling white to deep black. Every plate is one-of-a-kind because of the distinct patterns and differences in each marble piece, which offer a visual element of interest to any space.
Due to their adaptability, elegance, and durability, marble plates make a beautiful accent to any home decor. Marble's natural pattern, which gives it a distinctive and upscale appearance, is part of what makes it so beautiful. Pure white to black are just a few of the hues that marble plates may be found in, and each piece is unique due to the stone's inherent variance.
The adaptability of marble plates is one of its best qualities. They can be utilized in many different contexts. They can also be hung on a wall or exhibited on a shelf as ornamental items in any space.
Durability is another benefit of employing marble plates in your home's decor. Natural stone like marble can be used for a long time without displaying indications of wear and strain. Because of this, marble plates are an excellent investment for your house and can be used for many years to come.
Finally, marble plates are the ideal statement piece that can bring a sense of sophistication and beauty to any space. Marble plates are certain to leave a lasting impression on your guests whether they are used as a practical serving piece or as a decorative item.
Marble Plates in your Living Room for a Luxurious Look.
Choose Marble Plates in the Correct Size and Form When choosing marble plates for your living room, take their size and shape into account. A room with severe angles can benefit from the softness of round plates, while a more contemporary appearance can be achieved with square plates.
Usage as Tray: Marble plates can be used as a tray to exhibit more ornaments. For a striking presentation, try setting a vase of flowers or a stack of books on a marble plate.
Display on a Stand: Placing marble plates on display on a stand in your living area is another option. A huge plate can be raised on a bookshelf or display table using a plate stand to create a focal point in the space.
Mix with Natural Elements: To get a well-balanced appearance, marble plates can also be combined with other natural components like wood or flora. To bring a bit of nature into your living area, try setting a marble plate on a wooden tray or matching it with a potted plant.
In conclusion, marble plates are a wonderful method to freshen up the design of your living area. You may use marble plates to create a unified and fashionable design in your living area by selecting the proper size and shape, blending and matching with other decor, utilizing as a tray or exhibiting on a stand, and combining with natural materials.
Tips for Cleaning and Maintaining:
The attractiveness, toughness, and longevity of marble plates make them a popular option, however, they need routine cleaning and care  if you want to make sure that they last a long time and stay beautiful.
Clean the Surface Often: After each usage, marble plates can be kept in good condition by simply wiping the surface with a soft cloth or sponge. By doing so, you may get rid of any food or liquid stains and stop them from forming. Avoid using abrasive or acidic cleansers since they might damage the marble's surface by scratching or itching it.
Use Warm Water and Mild Soap: To clean your marble plates thoroughly, use warm water and mild soap. Because they can harm the marble's surface, stay away from using aggressive cleansers or chemicals. Just dab a soft cloth or sponge with the soapy solution, then gently wash the plate's surface.
Prevent Scratches and Chips: Marble is a robust, durable stone, but careless handling can still cause scratches or chips. On your marble plates, stay away from utilizing heavy or sharp objects. In a similar vein, try to avoid stacking your dishes on top of one another to prevent chips and scratches.
Dry the Surface Completely: After cleaning your marble plates, be sure to dry them thoroughly with a soft cloth or towel. This helps to prevent water spots or mineral deposits from forming on the surface of the marble.
Put a Sealer on It: You can put a sealer on the surface of your marble plates to prevent stains and other damage. It is simpler to clean and preserve marble surfaces since a sealer helps prevent liquids and other things from permeating the surface. Applying a sealer to your marble plates requires that you pay close attention to the manufacturer's directions.
Storage Instructions: While not in use, keep your marble plates in a cool, dry location away from heat sources and sunshine. To prevent chips and scratches, don't stack them on top of one another. Instead, keep them organized with plenty of room between each dish on a shelf or in a plate rack.
The lifespan and continuous beauty of your marble plates depend on regular cleaning and maintenance. You can keep your plates looking brand-new for many years by following these easy instructions. Keep in mind to wipe the surface frequently, clean it with warm water and mild soap, avoid chips and scratches, completely dry the surface, add a sealant if needed, and store your plates correctly. Your marble plates will remain a lovely and useful addition to your tableware collection with the right upkeep.
Handicraft Marble Plates as Gifts Ideas for Different Occasions
Handcrafted marble plates offer lovely and considerate gifts for a variety of occasions in addition to being useful products. We will look at some ideas for handcrafted marble plate gifts in this blog post.
Wedding Gifts: Handicraft marble plates can make for an elegant and practical wedding gift. You can choose a set of marble plates with a unique design that matches the couple's taste and style. Personalizing the plates with the couple's name or wedding date can add a special touch to the gift.
Anniversary Gifts: Handicraft marble plates can also make for a memorable and unique anniversary gift. You can choose a set of plates with a romantic design or personalize them with the couple's names and anniversary date. This gift is perfect for couples who love to entertain guests and enjoy hosting dinner parties.
Corporate Gifts: Handicraft marble plates can also make for impressive corporate gifts. You can customize the plates with the company logo or the recipient's name to make it more personalized. This gift is perfect for clients, employees, or business partners.
Christmas gifts: Handcrafted marble plates make wonderful presents. You can select a set of plates featuring a seasonal motif, like snowflakes, Christmas trees, or autumnal leaves. Each holiday table setting can benefit from these plates' festive flair.
Handicraft Marble Plates are versatile and beautiful gifts that can be given on various occasions. Whether it is a wedding, anniversary, housewarming, corporate or holiday gift, Handicraft Marble Plates can make a lasting impression and become a cherished possession for the recipient.
In conclusion, Marble Plates are a lovely and useful addition to your home's decor both stylish, and elegant. Handmade Marble Plates will dazzle and leave a lasting impact, whether you use them to entertain guests or exhibit them as ornamental pieces.